(To view complete table of C&M transplanter models go to the "Models of Transplanters" page.)
Finger/pocket type transplanter for bare root OR plug starts

FOXDRIVE
• Deeper planting. Better Stand. Tighter packing.
• Cast Iron shoe/sword–lasts longer!
• Adjustable plant depth control
• The weight of the operator rides on the tool bar and does not affect the planting depth
• Consistent plant to plant spacing (no skipping/slippage)–
• Our packing wheels pack and our drive wheels drive (They are separate wheels.)
• 15 finger grippers for greater speed (optional 10 or 20).
Increases efficiency. Decreases misses.
• Grippers/packing wheels set plant straight up in the ground
• Heavy duty 80 roller chain and taller chain – allows greater speed.
• Each row has a parallelogram for constant planting depth
• Efficient! Up to 4,400 plants per hour per row!
Ideal for planting:
tobacco • sweet potatoes • strawberries • tomatoes • lettuce • cabbage • broccoli
SEE: The FoxDrive- Testimonials and Videos
---
More details on these models coming soon!
• Foxdrive R14– Ideal for planting close plant-to-plant spacings. Fingers are mounted on round disc.
• Uni-Fox –Similar to FoxDrive, but each row has its own individual drive wheel.
Please click on the image of the brochure to view and/or download.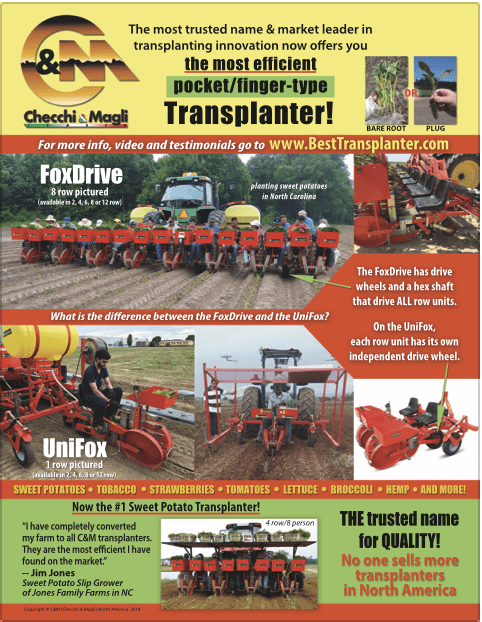 ---
SIX, 12-Row FoxDrive Models–IMPRESSIVE SIGHT!
Edmondson Farm and C&E Farm– Vardaman, MS

---