This year our transplanters have been the #1 choice for the HEMP market because "They really work!" NOBODY sold more transplanters for the US market than C&M! Take a minute and check out the videos below of just a few of the many hemp farms we have visited in the past few months.
Please submit a contact form (in header above) for information on how to order your C&M transplanter for next season.
C&M has been in the North American almost 30 years! A proven name for quality and innovation!

---
TRIUM model for direct ground–the most efficient!
We have been traveling all across the country (as you will see in this video)! Growing HEMP for CBD starts with a good transplant–NOT SEEDING! We are hearing from farmers in parts of the country that they lost their entire crop by trying to seed it!
This video features different configurations of our options and sized from all over the country as we have been out in the fields with our dealers and growers. From Colorado and Oregon, Maine, Nevada, Wisconsin, to Kansas and Oklahoma. More and more states are coming on board. Are you thinking about growing hemp in your state? Let us know if you are needing a transplanter– Just fill out our contact form and someone will get ahold of you! Or call our toll-free number in the header. We are here to help!
(Drone video by gmh.photo_ on Instagram)
---
Plastic Mulch Layer, Wolf & WolfPro models for Planting THROUGH Plastic
C&M (Checchi & Magli), the #1 transplanter, has boomed with the HEMP market and has solutions for you– even if you are planting through plastic! See our machines in action!
(Drone video by gmh.photo_ on Instagram)
Drone video shot on L7 Ag farm in Colorado.
---
The WolfPro–the "PRO" for Transplanting through Plastic–See Why
The WolfPro offers ease of planting through plastic straight up, PACKS the soil around your plug/clone, and offers optional electronic WATER application after packing, with either a spray nozzle or hose.This is CRITICAL for the hemp plant to SURVIVE and THRIVE!
---
Trium No-Till planting HEMP –Oregon
Justin of Endolief, who has been farming hemp for 3 years in Oregon, has 400 acres and talks with Grant about why he "LOVES" their C&M Transplanter.  They own 2, 3-row Trium models with the no-till option. "It's perfect!!"
---
Planting hemp in Wisconsin with the 4-row Trium
---
4-row Trium Pull-Type Planting 22″ Tall Plants! –Kentucky
Awesome arial photography of the C&M Trium planting HEMP in Western Kentucky. Notice how the Trium has no problem planting these very tall hemp plants straight up every time!! Try to find another transplanter that is up to the job like a C&M!
Arial photography and video by: blake@hughesap.com
---

---
5-row Trium, 2 mph- 2,000+ plants/hour/row –Oklahoma
May 2019– Trium model, 5-row, transplanting HEMP in Eastern Oklahoma.
Many happy farmers seeing their fields planted in record time!
---

---
Trium model, 3-row, transplanting HEMP –Kansas
Trium model, 3-row, transplanting HEMP in Kansas. No-till model does not require prep cultivation. The no-till attachment easily cuts through old plant residue. PERFECT!
(FYI- They did not have enough of the hemp plugs ready when we came to do the demo– so they got some flower starts from a local greenhouse for testing and setting up their transplanter.)
---
Why C&M Transplanters are THE Best Transplanters for clones/seedlings for industrial HEMP!
Our transplanters have been in the North American market for over 25 years, especially in the largest vegetable markets around the country including California. Some of the main crops utilizing our transplanters are: tomatoes, peppers, lettuce, cabbage, broccoli, cauliflower, turnips, onions, sweet potatoes, melons, strawberries, tobacco and much more!
In the past couple years many hemp growers have used our transplanters and had tremendous success– which resulted in these same growers purchasing many more C&M transplanters. We appreciate this brand loyalty. QUALITY MATTERS!
• Plants even TALL plug plants Straight UP! (even up to 20″ tall)
• Our machines set the tall hemp plants/clones/seedlings in the ground, with water, and firmly pack the soil around the plug, all at a pace of 1,500 plants/hour/row (Trium 10-cup carousel planter). Our vegetable farmers transplant at a production rate of over 4,000 plants/hour/row due to the closer plant-to-plant spacing.  Custom transplanting companies that use our machines everyday have been clocked at transplanting over 7,000 plants/hour/row.  Again, always based on plant-to-plant spacing and operator experience.
(click image to see our brochure)


---
Hemp Transplanting Compilation Video
---
This is a video compilation below of C&M (Checchi & Magli) transplanters and machines. Watch all of our machines in action!!
If you are looking for hemp transplanters in this video, then you will want to focus on the TRIUM model (4:05 minute mark into the video) and the WOLF and WolfPRO Models (14:30 minute mark) and our plastic mulch layers follow.
---
MORE PHOTOS–
Jenkins Farms of Nevada using a C&M (Checchi & Magli) TRIUM Model, Pull-Type, with the No-Till Option
Planting Hemp through plastic with the Wolf Model. Plants even tall plants up to 18″ tall!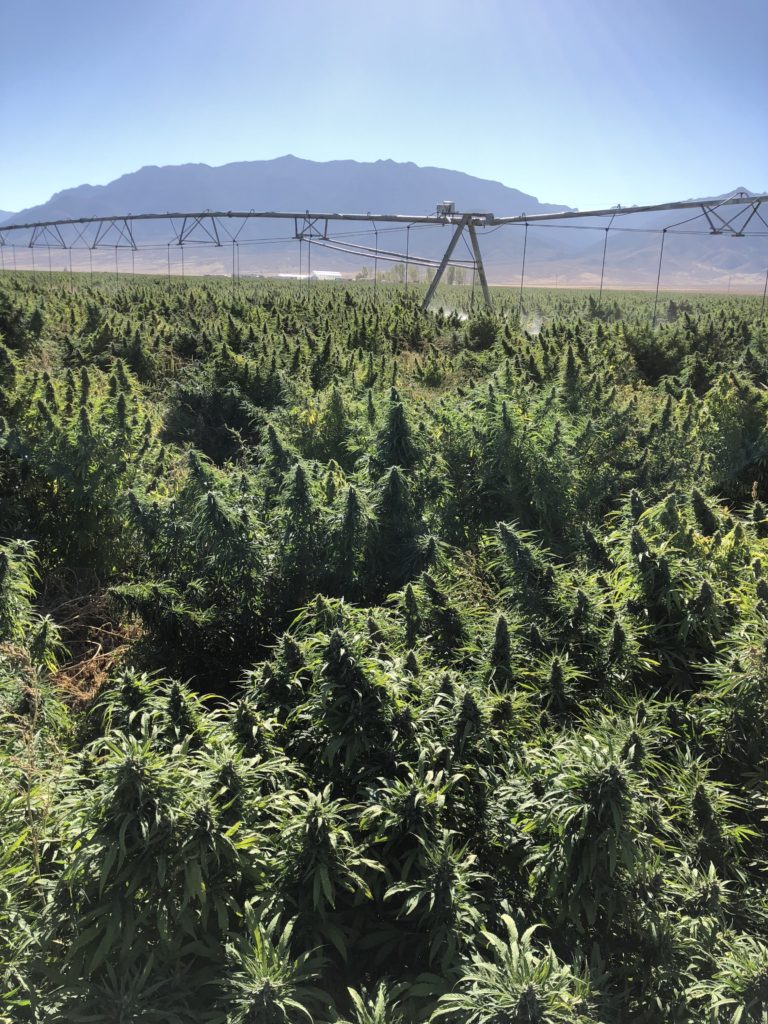 Elar Jenkins, a farmer who planted 260 acres in Nevada using C&M transplanters this past season said,
"These machines are AWESOME! They planted a heck of a crop!"