It's easy for us to find happy farmers willing to share how much they like their C&M (Checchi & Magli) transplanter. Here are just a few of them…
If you would like to give us your feedback concerning our transplanters, please go to the "Contact Us" page and leave your comments. We might contact you back to see if we can post yours as well.
---
Trium No-Till planting HEMP –Oregon
Justin of Endolief, who has been farming hemp for 3 years in Oregon, has 400 acres and talks with Grant about why he "LOVES" their C&M Transplanter.  They own 2, 3-row Trium models with the no-till option. "It's perfect!!"
---
You have probably seen this picture in our videos and on our brochure– (one of our favorite picts!)
This is Darrick Fitz, on this C&M transplanter at his farm, https://kabfarms.com/.  He was one of the first hemp farmers (that we know of) that got his first C&M transplanter 3 seasons ago and swears by it!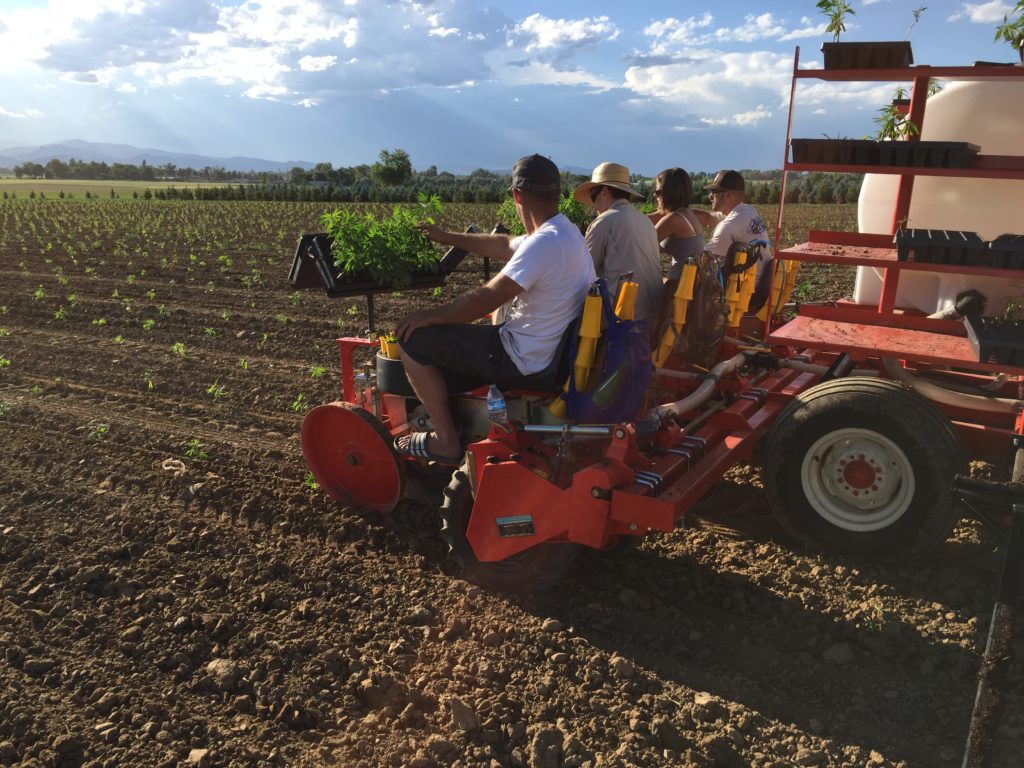 ---
The Wayne and Helen Jenkins family are pioneers in the hemp industry. Their son, Elar Jenkins, is growing 270 acres of hemp on his farm in Nevada. He used our Trium model with the no-till, pull-type package, as well as our Wolf model, pull-type, to plant through plastic last year. They would never go back to their old transplanters!  The Jenkins are doing all kinds of research and studies and have developed a proven seed and start in their greenhouses in Southern Utah. They are in business with several of their kids, including "Nevada's Farmer of the Year", Elar Jenkins. You can contact them on their facebook page: https://www.facebook.com/nyalagardens/
---
Tim Edmondson, of Edmondson Farm, in Vardamann, MS and his father and uncle own one of the largest sweet potato farms in the region. They tried a C&M Foxdrive transplanter a few years ago– loved it, and bought a few more. They loved them SO much worked with C&M in developing 6, 12-row hydraulic-fold transplanters for their farm. AMAZING!!! Now THAT'S a TRANSLANTER!  (Edmondson Farm and C&E Farm)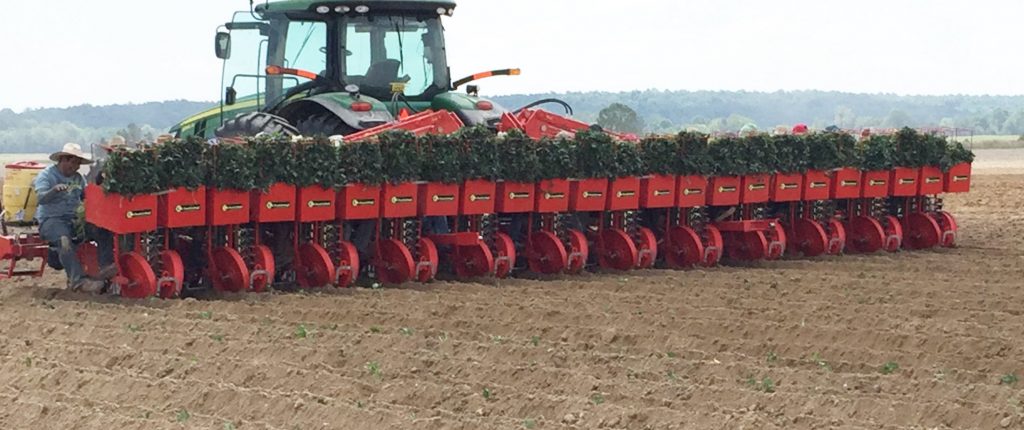 6, 12-row Foxdrive Transplanters!
---
He would MOST DEFINITELY buy another C&M Trium Transplanter! (Checchi & Magli)
Harry Thomas in Western Kentucky owns a 2 row Trium tobacco setter from C&M. They really like it! It didn't take long to get it set up, adjusted, setting the plants straight up, the water adjustment was really easy to get set up for their needs. They were consistantly setting an acre of tobacco an hour, which was twice as fast as they were setting before with their other setter. They were really skeptical about the carousel design at first– but this is a different design than what they had with other setters. They were really pleased with how easy it was to set up the timing too.
Now for the big question… If you had to buy another setter would you go with the C&M again?
MOST DEFINITELY!
---

Brightly Farms uses the C&M (Checchi & Magli) Trium model to transplant 270 acres of cabbage
WE LIKE IT! We are actually looking to buy another model to plant some different items we grow.
Less skips… more productivity…happier help!
It just does a better job!
---

C&M (Checchi & Magli) Foxdrive Transplanter, Solex-Planasa Strawberries (bare root)
Bob Holly, from SOLEX Corporation in Dixon, CA talks with Roger Hamamura from Planasa, a large grower of strawberries in California about why they prefer the C&M transplanters. He says after usage, "You wouldn't want to go anywhere else–they are really good machines!". They own 3, 6-row Foxdrive models, and the main office in Spain owns 5. The video footage of the FoxDrive model working is shot at the Planasa farm around Macdoel, CA.
---

Bobby Tune- C&M Trium model setter for tobacco in western Kentucky
He is impressed with the consistency of the plant to plant spacing and they get a better than 99% stand. He has had his setter for 2 years has had no issues with it and has been very happy with it.
---

C&M (Checchi & Magli) Foxdrive model planting sweet potatoes & tobacco in NC-Zack Bissette
The Accuracy is PERFECT! –Zack Bissette from Rocky Mount, North Carolina purchased his first 8-row, Foxdrive model transplanter from C&M (Checchi & Magli) for his planting in the spring of 2015. He plants 400 acres tobacco and 500 acres sweet potatoes. It only takes 1.5 to 2 hours to completely change over and adjust the transplanter from planting tobacco to planting sweet potatoes. The Foxdrive is a "finger-type" transplanter that plants bare root as well as plug starts. He finds many advantages over the competition: easy change over from different crops, the heavy 80 chain makes planting more uniform and the accuracy is PERFECT! He can change the plant spacing in 3-4 minutes. In planting sweet potatoes this year with the C&M as compared to last year with the competition, he can plant 5 more acres per day because his he can run the tractor faster. And Time is MONEY!
---

C&M Trium owner-Henry Manion plant burley tobacco
Henry and his brother farm 1500 acres of burley tobacco in Lafayette, Tennesee. They together have 5, 4 row C&M Trium tobacco setters and have found they do a better job and they are very happy with it. They save labor, put plants in the ground better.