The Hemp market is booming!! The advantages and multiple derivatives and products from hemp are ever growing: from CBD oil, to health food products, to fibers for fabric… and hundreds more! Every day we get calls from farmers and new entrepreneurs who want to get in on this wave and do not know how to get started.  For getting your starts in the ground and off to a healthy and robust start, our transplanters are THE way to go. Take it from guys who have been in the business for years, and others who just started a year or two ago, our C&M (Checchi & Magli) transplanter makes a HUGE difference in getting their crop in fast and healthy!! The most common models for HEMP are our Trium, for direct ground, and our Wolf or WolfPro Models for planting through plastic. You can buy one row or 12 rows, depending on the size of your farm. Lately we have been getting lots of calls for 8-row units!
---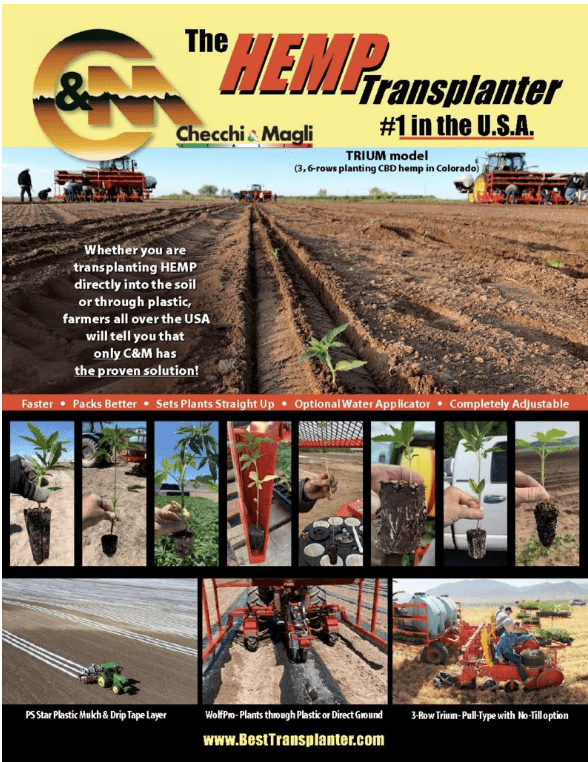 What Farmers are saying about C&M Transplanters…
"I LOVE it!   I love the accuracy, the adjustability and speed of it! Everything about it– it's great! You can tell it's built well. We use the no-till kit because we have different fields in varying conditions. It plants perfectly!" –Justin, Endolief in Oregon–owns 2, 3-row Triums (Planted over 400 acres) (see Justin's video on our Testimonial page)
"My C&M transplanters are the most precise transplanting machines I've ever used. I planted a great hemp crop with them. I now own 5." –Elar Jenkins–Hemp farmer in Nevada (planted over 800 acres)
"The C&M transplanters set even my tall plugs/clones straight-up and packed them beautifully– I would not buy anything else!" –Bomar Agra–Colorado, Owns 8 C&M machines
---
Here are some photos of the Trium & WolfPRO transplanting hemp!